16 Mar

Kitchens Designed for Entertaining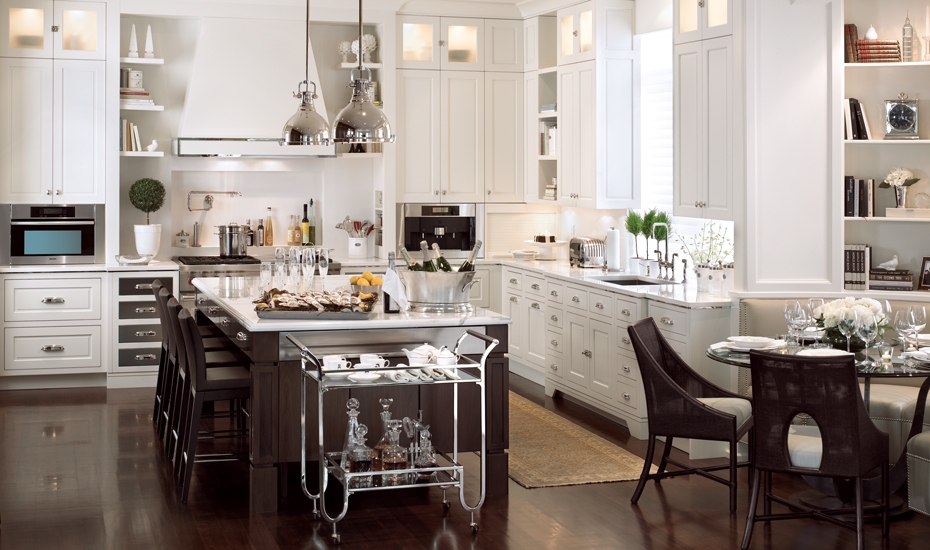 It is often said that the kitchen is the heart of the home. Another saying could be,  "Kitchens are at the heart of entertaining".  Today more and more couples – and single guys and gals as well- spend time with family and friends cooking and entertaining at home, preferring the personal ambiance over a restaurant. The art of entertaining is alive and well and many more of us are experiencing the joy of cooking and becoming the chef of our own home. The rise in the number of cooking and home entertaining show reflects this.
  So, if you are thinking about remodeling or building a new kitchen, what should you be keeping in mind to insure that you and your guests have a great time. Here are a few questions that you need to ask yourself as you start the process:
What kind of events do you host? (Large or small; formal or casual)
How many people do you usually entertain?
Do you cook all the food yourself? Or is there a caterer or second cook involved.
Is cooking the food itself part of the entertainment?
Do you serve the food or is buffet style and serve yourself?
Depending on how you answer the above questions, then you may want to consider the following features and options: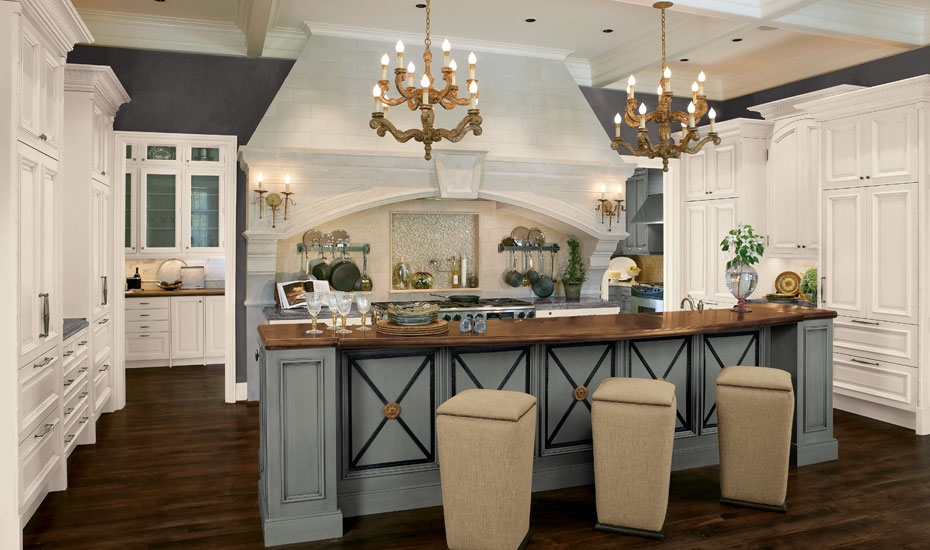 LARGE ISLAND. Nothing says a party like a big island that everyone can gather around. In addition to providing lots of seating, the island gives you, the cook, a chance to be the star of the show and show off your culinary skills and provides opportunity for a second prep sink and workspace for an additional cook as well. If space permits, many times it is great to have two islands: one as a working island and one as a eating and storage island rather than one super large island.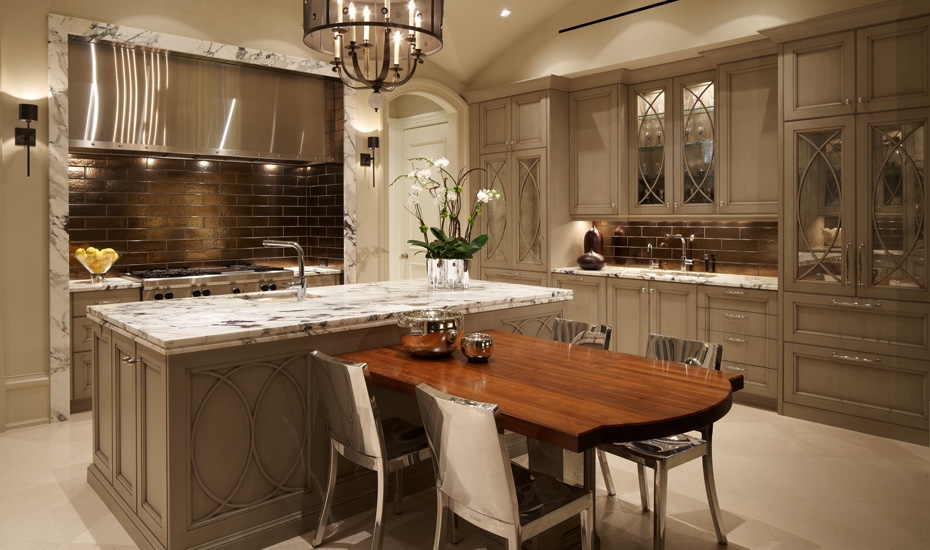 SEATING AREA. You will need a place for your guests to sit and visit while you prepare the meal or even to gather and just visit. An open kitchen floor plan is a must if you are considering an entertaining kitchen plan and seats for your guests are part of this. It can be a built-in banquette, a raised up bar top as part of the island or a cozy table and chairs adjacent to the kitchen. It is all about talking, visiting and sharing with each other.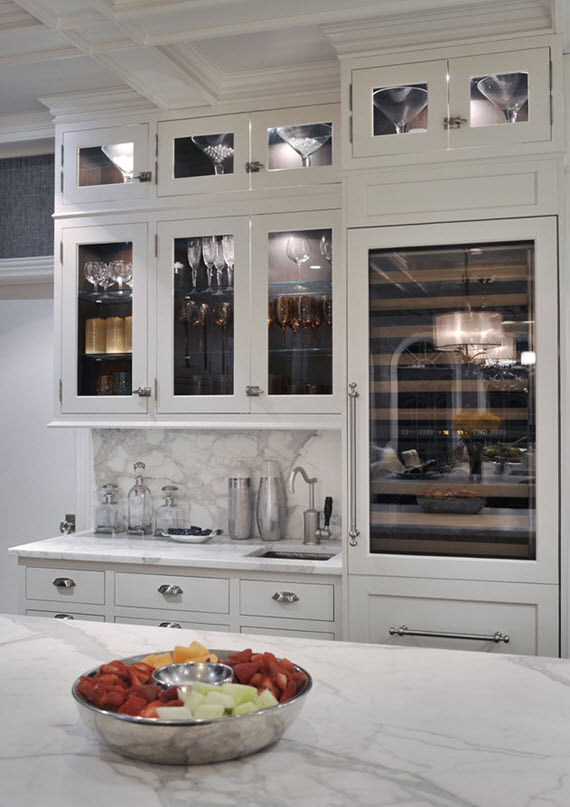 BEVERAGE CENTER Drinks are a part of any party or dinner and today you have lots of options to provide your guests with exceptional service and selections right in your own home. Consider having a separate entertainment bar area for drinks and snacks while your guests are mingling and visiting. You can have a wine cooler and separate icemaker and sink in this area. While you are prepping the meal, your significant other can be a master bartender. If you and your friends are coffee fanatics, why not install your own built-in coffee machine in the area and make coffees, cappuccinos and espresso just like the barista down the street.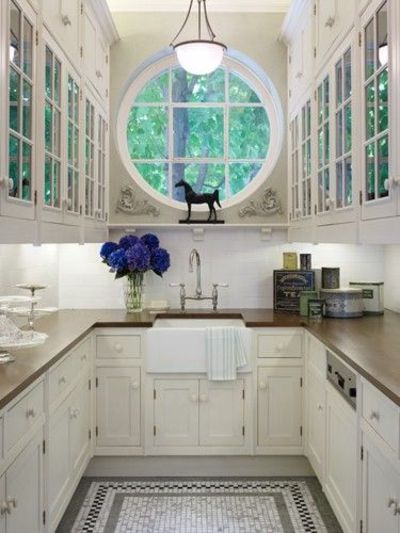 BUTLER'S PANTRY If you use caterers often or entertain large crowds, you may want to consider planning for a true butler's pantry. This becomes a secondary kitchen for you. Not only will it provide you with lots of additional storage for platters, dishes and other items needed for parties and entertaining, but you can install a secondary dishwasher, a warming drawer here as well as another sink. The space can also be used by caterers for prepping and clean up, while being out of sight from your guests.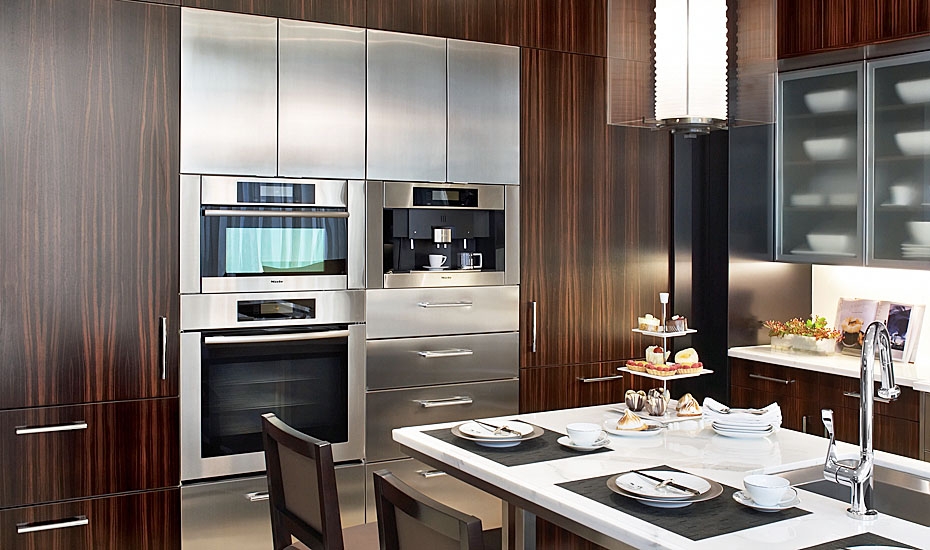 DUAL APPLIANCES For the serious cook and entertainer, two ovens are a must. But today, you may even want to consider having two dishwashers for quicker cleanup, depending on the number of guests you normally entertain. Other appliances such as steam ovens and warming drawers are also great for the serious cook and makes getting everything ready on time and at the same time just that much easier.