04 Feb

Classic White Kitchens

White kitchens have always been a classic staple of design. Yes, there may be other trends that come and go but white never really ever seems to be completely out of the picture. Today, we are doing more white kitchens than ever. And white kitchens cross all boundaries of budget and style. Everyone seems to be rediscovering the beauty of the white kitchen. Having designed dozens of white kitchens, I would like to share with you some of my favorite things about a white kitchen as well as some things you need to be aware of before you decide to choose a white kitchen for yourself.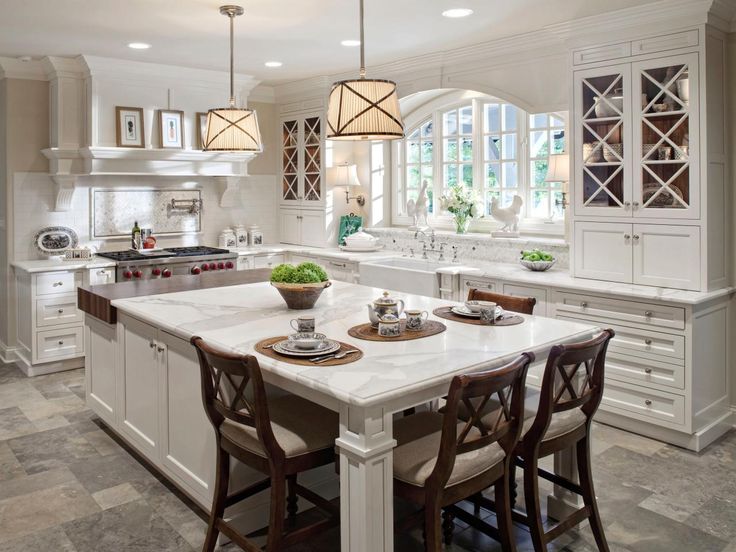 A white kitchen can brighten up a dark space.  Many older homes don't have the tall ceilings and the huge windows that are available to new homeowners today. A white kitchen will instantly brighten and expand the look of your room, if you are currently living with darker stained cabinetry and countertops. A white kitchen will instantly make your space seem happier and more alive.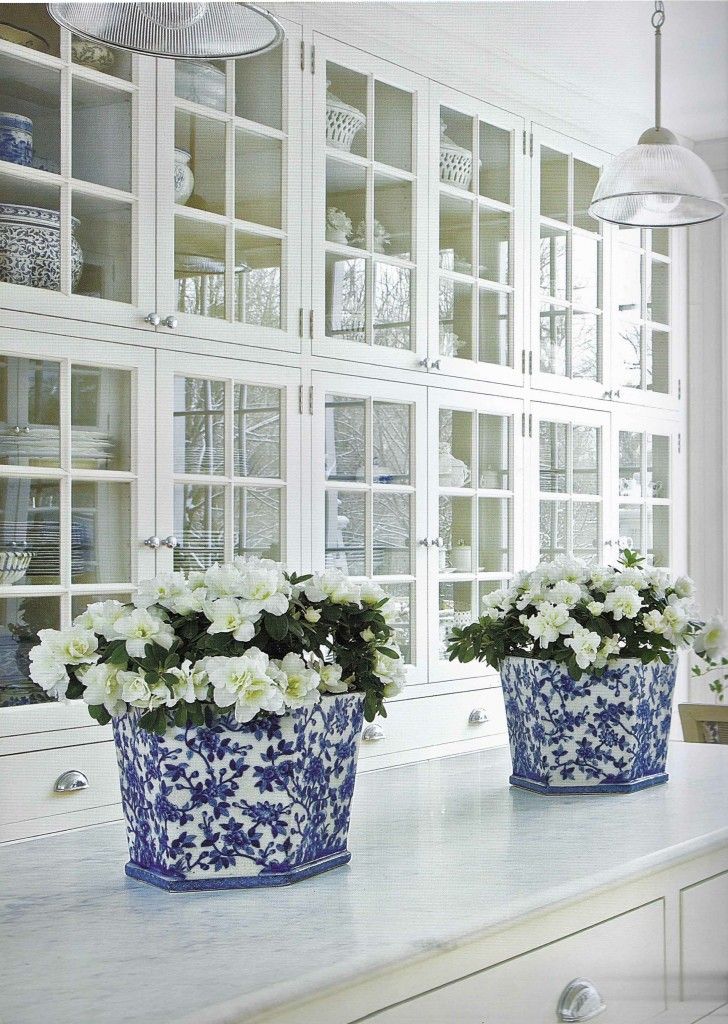 credit: cotedetexas.blogspot.com
A white kitchen allows your collections to be seen. If you have beautiful dishes that you want to display or a collection of something that you want to highlight then a white kitchen is the perfect vehicle for doing so. Everything looks great against and with white. Even the items you will place on your countertops will take on a different look when they are surrounded by white. If your collection has color, then it will provide a real pop of color and will certainly get noticed as the only color in the room.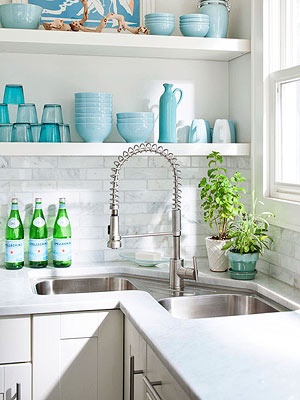 credit: midwestliving.com
You can change the color of your kitchen whenever you like.  For the reason I just stated, a white kitchen, being be neutral, allows anything and any color really stand out. So, if for now you want to have a red accent color in your fabrics and accents, go right ahead. In a few years, you can just change those red fabrics and accessories out for blue and have a whole new look. White allows you to always have an easy background in which you can express yourself and the latest color trends.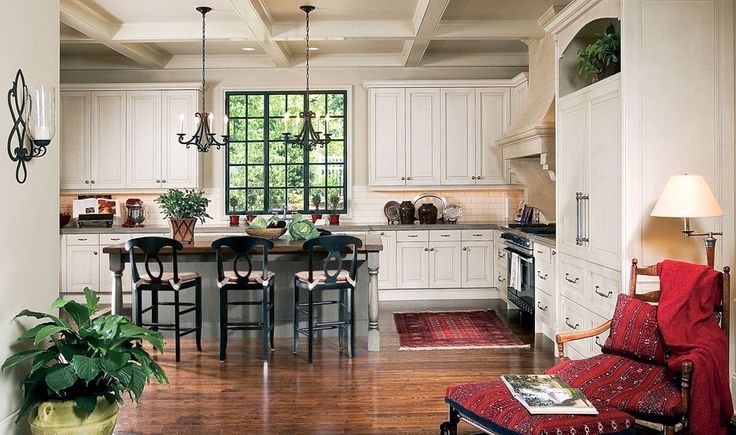 credit: downsviewkitchens.com
White kitchens blend in easily with other adjoining rooms.   A white kitchen is easy to live with and also easy to design around. If you are starting with your kitchen first in a remodel or even a new home, choosing white will allow you the most flexibility later when it comes to making other material and color choices for the adjoining spaces. Everything goes with white and it will make your life a lot easier later when it comes to selecting items for the other rooms.
Now for a few things that I want you to remember when deciding to choose a white kitchen:
The hardware will really stand out.  Against a white cabinet, the hardware you chose will really make a statement. That can be a wonderful thing. But think carefully about the shape and the color you want and how 50 or 60 of those will look. Against white, you will really notice the hardware (unless of course you chose a white pull or knob).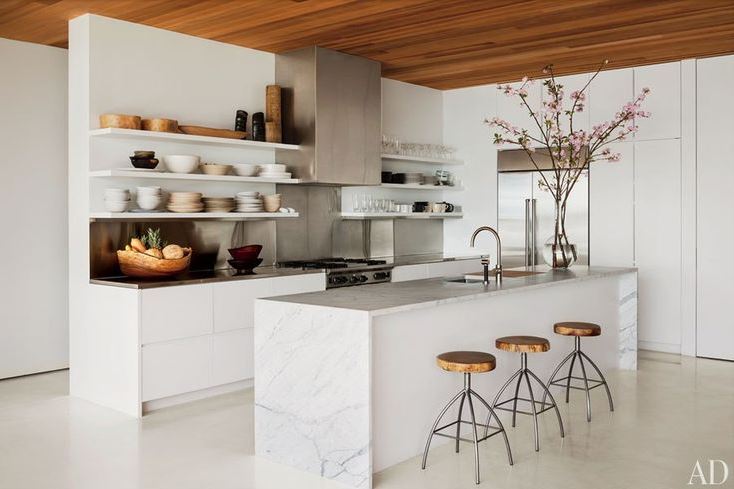 credit: architecturaldigest.com
Use pattern and texture to keep the room interesting.   An all-white kitchen can get boring fast. Using texture and pattern is the way to keep your eye interested and give the room personality. For texture, think of wood beams in the ceiling or a hand scraped wood floor. How about brick on the wall or an interesting texture to your fabrics. A hammered metal hood or a light fixture can add interest. For pattern, consider the mullions on the glass doors and their pattern. Or what about a patterned wallpaper or patterned tile floor. Even the backsplash can have a great pattern, while still staying a neutral white. Just remember: without using color, you need to rely on the other elements of design: pattern and texture, to make the room memorable.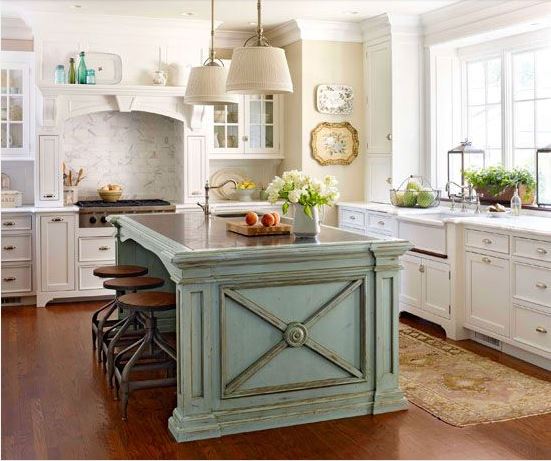 credit: bhg.com
If you want to add an accent color or stain to your cabinetry, do it on the island.  It is great sometimes to add an accent color to the cabinetry and the island is the perfect place to do so. A black island is a classic. But walnut and cherry stains are also wonderful and give the room some visual warmth. If you want to add a color, look to your dishes or an accent color you love that is used in adjoining rooms. This is not the place to try a new trendy color. Keep to a color that you have loved for years. Then tie in a few new accent pieces or fabrics to complete the look.
 credit: homebunch.com
White will show more dirt and scuffs.   It is true: white is wonderful but it will show more of life's little mishaps than darker and more patterned materials. But you can put the odds in your favor by choosing non-white floor, by selecting knobs rather than pulls to keep dirty hands away from the white cabinetry and using a patterned white or darker countertop material. Also that stained or accent color island we just mentioned is also great because an island tends to get a lot of scuffs from barstools and kids circling around and a darker finish helps hide the abuse much better than a white finish. Finally you may want to use the flooring material- wood or tile- on the toe kick of the perimeter cabinetry to hide scuffs there as well.
If you follow my advice and tips above you can have a white kitchen that not only looks beautiful, but functions great as well and reflects your personality and good , classic taste. You can see a lot more examples of beautiful white kitchens on our Pinterest page.