30 Jan

Kitchen Trends for 2015

 Each year, I love to look back and see where design has been for the last year and where it seems to be going. Over the last few years, I have seen kitchens becoming less cookie-cutter and more reflective of the client's lifestyle and personal style. Kitchens today reflect a wider array of choices and materials than ever before. They are becoming more than just a space to cook and prepare food; the kitchen is really where much of a family's activities and time is spent.

 I would like to share with you some trends that I see becoming even more mainstream and important as 2015 begins and most of these, I believe, will be with us for many years to come.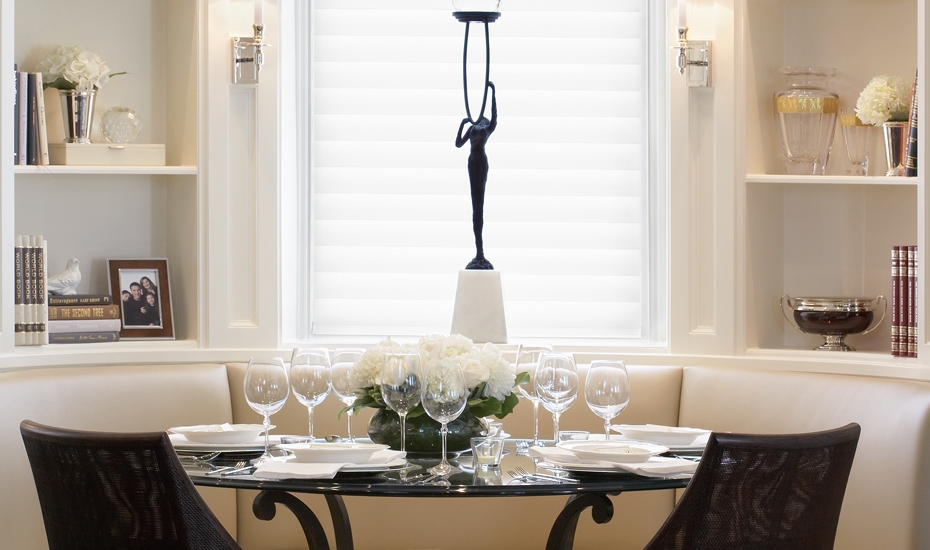 Built-In Seating Built-in seating is not a new concept, but I am seeing, and using more myself for my client, the concept of a built-in area for the breakfast table. Not only does it save space, it is also a real bonus for small kids who have a problem with chairs. Just slide right in and have a seat. Somehow to me, a built-in seat has a cozy feel and makes you want to sit and stay awhile. Many times they also become great hangouts for reading, checking emails, homework—all the things that are normal everyday activities for most families. My advice: pick dramatic chairs and give the room character and simple tables to allow for easy in and out access.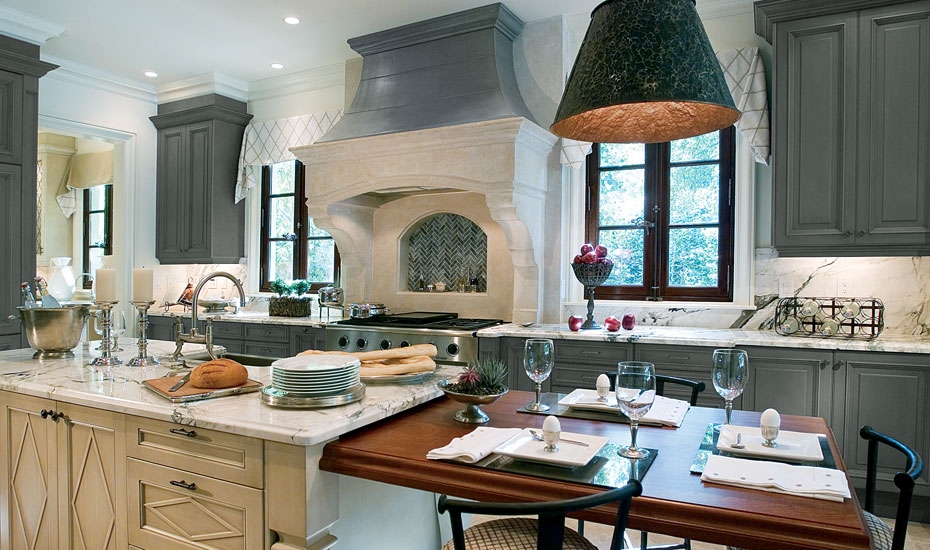 Gray Color Cabinetry With all the popularity of white cabinetry and Carrera marble, gray cabinetry has really become a great trend in the last few years. Acting as a neutral, gray cabinetry blends beautifully with almost any other accent color and offers a classic alternative to the standard all white kitchen. Think about adding an island in gray with your white kitchen. It also looks stunning with black. My advice: go with a warmer shade of gray to keep the kitchen from looking too cool.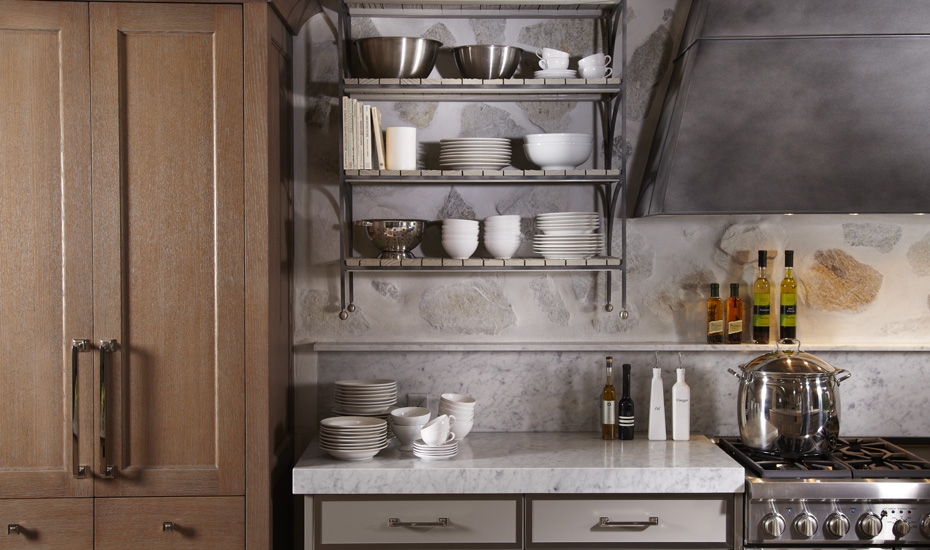 Open Shelves While this new trend may scare several of you, the open shelf concept in kitchens has been around for hundreds of years. Before we decided to put everything out of sight and behind cabinetry, most kitchens were just highly functional and practical. Today's budding gourmet chefs like open shelves because everything is easy to see and quick at hand. As a designer, they offer the opportunity to add new materials to a kitchen design and to create interesting shapes and lines. My advice: use a small amount of open shelves. Mainly to store your everyday dishes and service ware or use them near the prep area for mixing bowls and bakeware. This way the items are using neat and tidy and always looking good.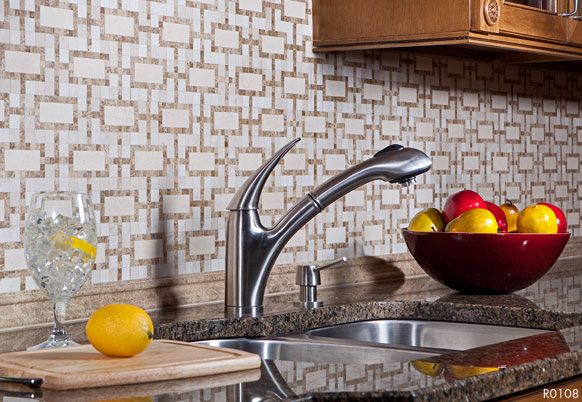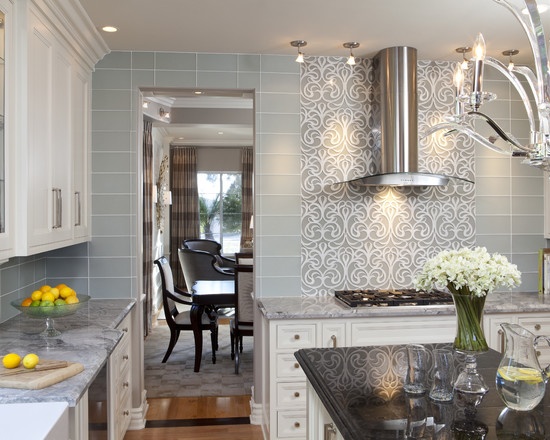 Large Scale Tile With the recent invention of digital printing on tile and the use of waterjet technology, I have seen an explosion of large pattern tile. These tiles have detailed and complex patterns and interesting mixes of materials. The effect is of a wallpaper design. Nowhere is this more exciting than on a kitchen backsplash or floor. Gone are the days of small, buy patterns of tile on the backsplash: today's newest looks features a strong pattern used throughout the entire backsplash area, in much the same way that someone wallpapers an entire wall. I love to create more drama by covering the entire wall- backsplash and around the sink window – with these gorgeous patterns. My advice: if you are afraid of a lot of color, pick a large scale tile in a neutral white and gray material for a more subtle and subdued look.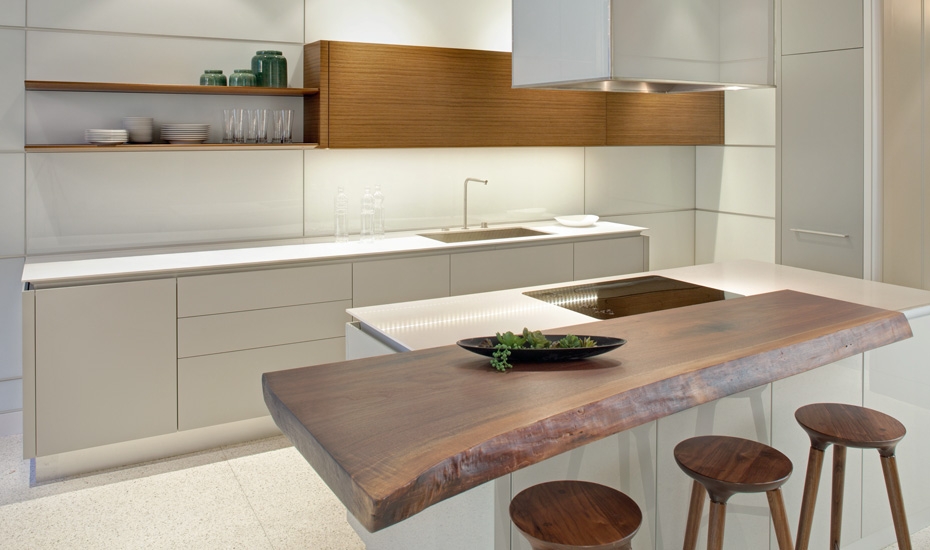 Rustic Materials mixed with Contemporary style Sleek contemporary kitchens can sometimes become lifeless and cold. Adding a touch of an organic, rustic material and texture into the room, not only adds warmth but also tons of personality. I have seen this trend coming on strong in the furniture and accessories markets for the last couple of years, but now kitchen designers and homeowners are embracing this look as well. Imagine sleek polished nickel up against a piece of raw natural wood. Or a textured old brick wall combined with a piece of polished marble. The look is not only striking; it is visually stimulating. My advice: pick the area that you want to emphasize and make it a strong contrast: your eye will naturally go to that area.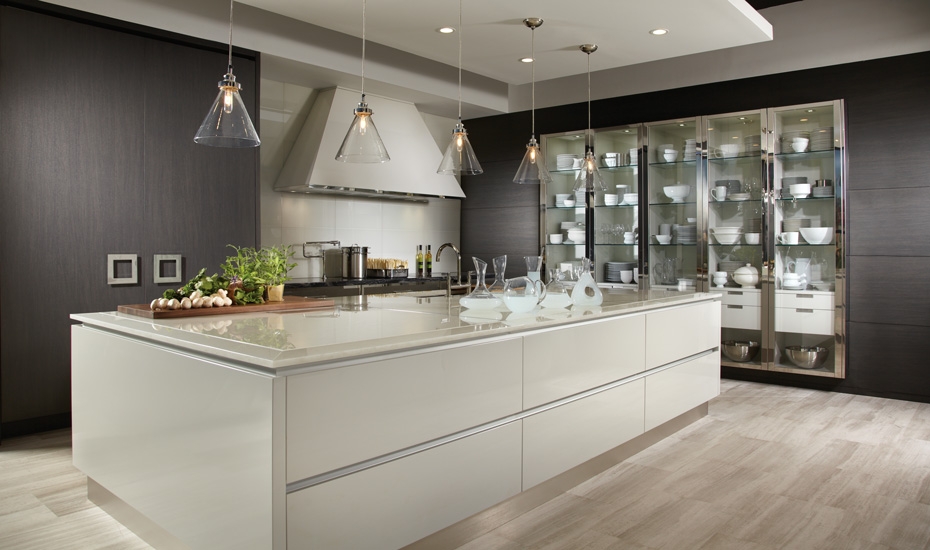 Large Glass Front Cabinets Glass front cabinets are nothing new. But today's trend setting kitchens offer glass cabinetry that is oversized and makes a strong visual statement. Think more of pantry door that is full glass. Used to store mainly dishes, bakeware or serving pieces, these oversized doors now can be made of polished nickel frames, stainless steel frames or matching wood frames. They now feature items like LED lighting that highlight collections and offer mood lighting during the evening. The look is striking and and filled with drama. My advice: create a wall of full glass cabinetry between the dining room or breakfast room to keep your dishes and stemware in full view and stylistically tie the two rooms together.
See more examples of my kitchen trends for 2015 on our pinterest board here.