28 Jan

Historic Gem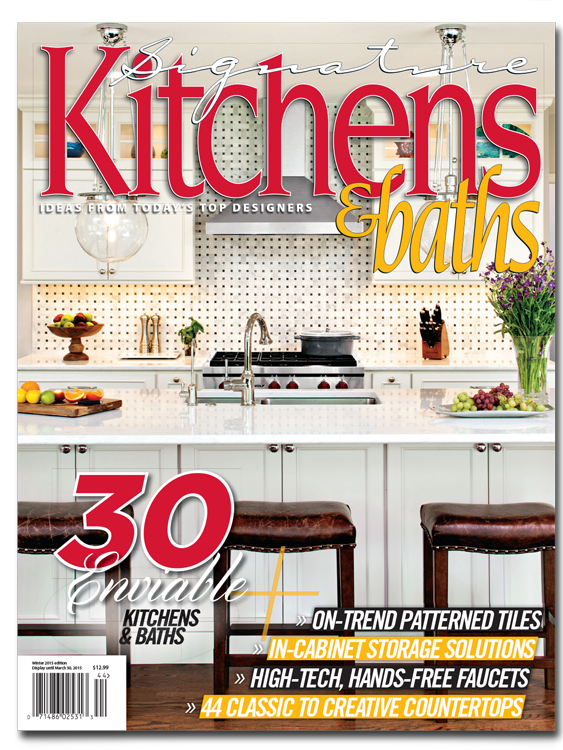 The New Year has barely begun and we are fortunate to be scheduling appointments to see new clients for upcoming spring projects.
And our New Year couldn't start off any better than with being featured in the latest issue of Signature Kitchens & Baths magazine.  It is a kitchen we completed last year for a couple that was tired of their inefficient kitchen.
The couples' requirements were simple, yet daunting:  create a fully functional kitchen with eat-in area for 4, lots of storage, top-of-the-line appliances including a coffee and tea bar and filled with style and personality.  Oh, and yes. . . you have to stay within the same footprint.
After analyzing the size of the available space, we determined that an island or peninsula would break up the work flow in such a small space.  Thus his plan began with a table for 4 as its center point.  Not only providing eat-in seating, but a place for serving space for parties or as extra counter space.
Once the table was in place the layout consisted of an efficient U-shaped work space with a custom buffet storage and display at the opposite end of the kitchen.  We utilized a space underneath the staircase to create a built-in coffee and tea center, complete with its own storage.
As for style, we chose a classic combination of white, gray and silver.  This creates an elegant and sophisticated background and allows all of the client's colorful and eclectic possessions to always take center stage.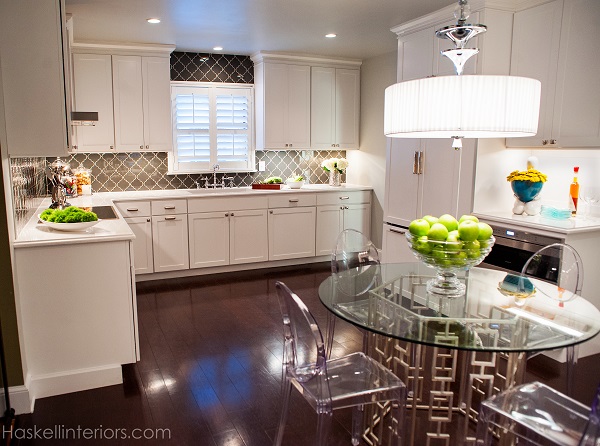 We maintained a delicate balance between traditional elements, mixed in with a few more modern and eclectic touches to reflect the owner's diverse style.
We selected a sculpted glass tile to run the entire height of the wall on one end and to create height and visual interest.  On the opposite side of the room he designed a custom display and serving piece to give a focal point to the room and to provide storage for the owner's linens and serving pieces. The dark wood floors tie-in with the rest of the home and provides warmth of tone amongst the color shades of the rest of the kitchen.
The couple is thrilled with the results and friends can't believe it is still the same small space.  Now our clients can begin to entertain in style.
Copies of Signature Kitchens & Baths magazine are available at all area bookstores and newsstands. See more photos from this project on our Pinterest page.
Check out our website
Stop by our showroom today to explore how Haskell interiors can make your home more beautiful. We are located in historic downtown Cleveland, TN we offer you the largest selection of tile, plumbing, cabinetry, hardware, furniture, fabric, wallcovering and accessories in the Chattanooga area.