07 Apr

Picking the right sink for your Kitchen Remodel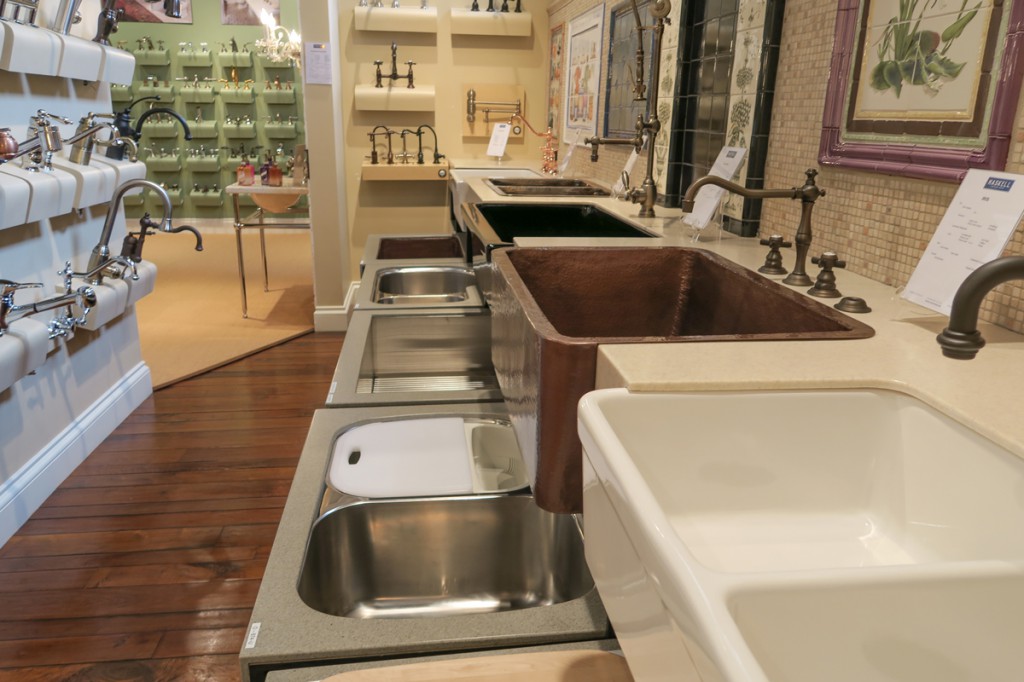 Haskell interiors is confident we are the ultimate design resource in the the Chattanooga area. Our team is here to guide you in making intelligent choices when it comes to making your home reflect your personality. We are proud to carry many lines of custom cabinetry, plumbing, hardware and countertops to design your entire kitchen, whether it is new construction or a remodel.  Today we are going to talk today about an often overlooked item in a kitchen design or kitchen remodel, the kitchen sink. The Kitchen sink is a core component of what is arguably the most important room in the house, the kitchen. And with all the use and abuse it takes in a lifetime, the kitchen sink you ultimately select will have a big impact on the final result when designing or remodeling your kitchen.
As with most decisions in the home, there is no one right answer for everyone. But by understanding your choices and then making an informed decision, you can ensure that you will select the kitchen sink that is right for you.Today, there are literally thousands of kitchen sink choices available to the homeowner. I am going to cover the three main areas that you need to consider when making a kitchen sink purchase. They are: the installation type, the configuration and size, and finally the material. There is a lot of information to cover, so let's get started:
INSTALLATION TYPE: This sounds daunting but really there are just four ways to install a kitchen sink:
Drop In: In this method, the sink is literally dropped in and lays on top of the countertop. Most sinks we all grew up with were done this way. It is the easiest way to install a sink into any countertop material, but it has the disadvantage of leaving a rim around the sink that can catch food and grime. You cannot swipe food and liquids right into the bowl because they get caught on the lip.
Undermount: In this method, an opening that is an exact match to the sink in made in the countertop and the sink is mounted under the countertop. This method usually costs a few hundred dollars for mounting charges but has the advantage of leaving you with a smooth edge that allows for you to sweep food and liquids right into the bowl, without any edge or lip to catch debris.
Tile-In: Sinks that are made for use with tile countertops are similar to drop ins but are made so that there edge will be flushed with a tile countertop. There is usually a grout line between the edge of the sink and the surrounding row of tile.
Farmhouse : Actually most farmhouse sinks are undermounted but they are different enough that I have set them aside as their own category. A farmhouse sink is a sink with the front of the sink exposed and finished. It requires a special cabinet to be mounted properly and additional support to carry their extra weight.
CONFIGURATION AND SIZE: This refers to how many bowls and the arrangement of the bowls you are needing. There are lots of choices and styles. As for size, that is an easier topic. As a rule, most cooks and homeowners want a deep sink. Today, that means 8-10" deep.  Almost all kitchen sinks are made to fit in the 24" depth of a standard base sink cabinet. They will be from 19-21" in depth. As for the width, there you have to be careful. You want to select as big a sink as will fit into your sink cabinet. But you must allow for a couple of inches for the mounting brackets. As a general rule, select a sink that is 2-3" narrower than you base cabinet to insure a good fit. Thus a 33" sink would be a good choice for a 36" wide cabinet. Now that you have the sizing selected, it is time to select the bowl configuration that works best for you and your cooking and cleaning habits.
Single Bowl: A single bowl sink is just that: one bowl. Single bowls sinks have become very popular in the last 20 years and many cooks love the fact that they can place large pots and pans or cooking sheets completely inside the sink. They also love that the can place lots of dirty dishes in there as well. The disadvantages are that if you are rinsing vegetables and soaking a large casserole dish, you will have to do some juggling.
Double Bowl: A sink with 2 bowls makes it easy to do 2 different tasks at a time, such as washing dishes or soaking a pan, while preparing food. Today you can select from sinks that are equally divided with 2 bowls the same size or make a selection of a 60/40 split where there is one large bowl and one smaller bowl. The disadvantage to a 2 bowl sink is that you may find times when you need a bigger bowl.
Triple Bowl: The third and the least popular is a 3 bowl sink. Usually this consists of two normal sized bowl and a third small bowl in the middle (usually for the garbage disposal). The advantage of this configuration is that you can access the disposal independently of the other two sinks. The disadvantage is that this configuration takes up more space than you may have and many people find that the third sink in the middle is often in their way during much of the time.
MATERIAL: Today, there are many choices when it comes to choosing the material for your kitchen sink. Each has advantages and disadvantages. It is important to carefully consider each before you purchase.  Here are the most popular materials used today:
Stainless Steel: The advantages of stainless steel is that it is very easy to clean and durable. It also provides a consistent look with stainless steel appliances. As for disadvantages, it can water spot with hard water. Also, it does scratch, although it can be buffed out and many manufacturers offer bottom grids to protect the sink.  The thickness of stainless is measured in the unit of gauge. The smaller the gauge of the stainless, the thicker the stainless. Look for 16 or 18 gauge for good quality.
Cast Iron (Porcelain): These sinks are great in a more traditional styled kitchen. They are available in a wide variety of colors and have a very nice sheen. However, since it is a more porous material, they can, over time, chip, and stain and crack with hard use from metal and cast iron pots and pans. Abrasive cleaners can dull their finish and due to their heavier weight, there may be some additional bracing and work to secure them.
Fireclay: This material is often mistaken for cast iron/porcelain, but in reality it is much harder, non-porous material than porcelain. These sinks thus are more expensive than similar sized sinks and heavier as well, requiring bracing and brackets.
Copper: Copper sinks have a distinct look and will develop a patina over time which is usually thought of a positive attribute. As it is used, it will develop its own character and finish. If you want to keep it shiny and new looking, you will have to polish it. Copper sinks as a whole cost more than other materials. And just like stainless the smaller the gauge, the thicker and generally the better the copper.
Natural Stone: Sinks made from natural stone benefit and suffer from all the characteristics that natural stone offers. They offer great sound deadening and great looks and most often time are made to blend in with the surrounding countertop material so that there is a consistent look. But natural stone sinks are expensive and most, if not all, will require special supports because of their tremendous weight. Finally routine maintenance such as sealing will be required to keep their beautiful appearance.
Composite: There are several companies that offer sinks made from special polymers, granite mixes and other materials. They are usually made to offer a look of stone but without the weight and expense. While they do offer a price and weight advantage and require much less maintenance than natural granites and stones, many of these sinks still have issues with scratches, and staining.
Now that you have gone through the selection and decision process and have the sink choice that is best for you,  many companies offer accessories such as cutting boards, basin grids, colanders, and baskets that are designed to fit your particular model and provide you with even more convenience, use and protection.
There is a lot to consider when choosing a kitchen sink. But with careful consideration and taking the time to analyze how you use your sink daily and what characteristics are the most important to you, you can end up with the perfect choice that will give you years of enjoyment and performance.