24 Apr

High Point Furniture Market Spring 2015

Trends from High Point Market Spring 2015

As I do every spring, I make the trek over the Smokey Mountains and visit the High Point Furniture Market, located in High Point, NC. This is the place where manufacturers, designers and furniture showroom owners from around the globe come together for 5 days to display and sell the latest in furniture and home accessories. It is also a great place and opportunity to get a real glimpse into what we will be seeing as the latest trends for 2015 and beyond. This spring's market was filled with great new products and I saw too many wonderful pieces to list here, but I can tell you about 5 trends that were very prevalent as I roamed the market during my stay:

Deep, Saturated Blues: We have seen turquoise be an important color for the last few seasons, but this market, deep and rich blues seem to prevail. From azure to cobalt, rich deep blues were to be found on walls, in upholstery fabrics and also on accessories. Blue mixes well with so many colors that it is easy to why this classic color is back in the limelight once again.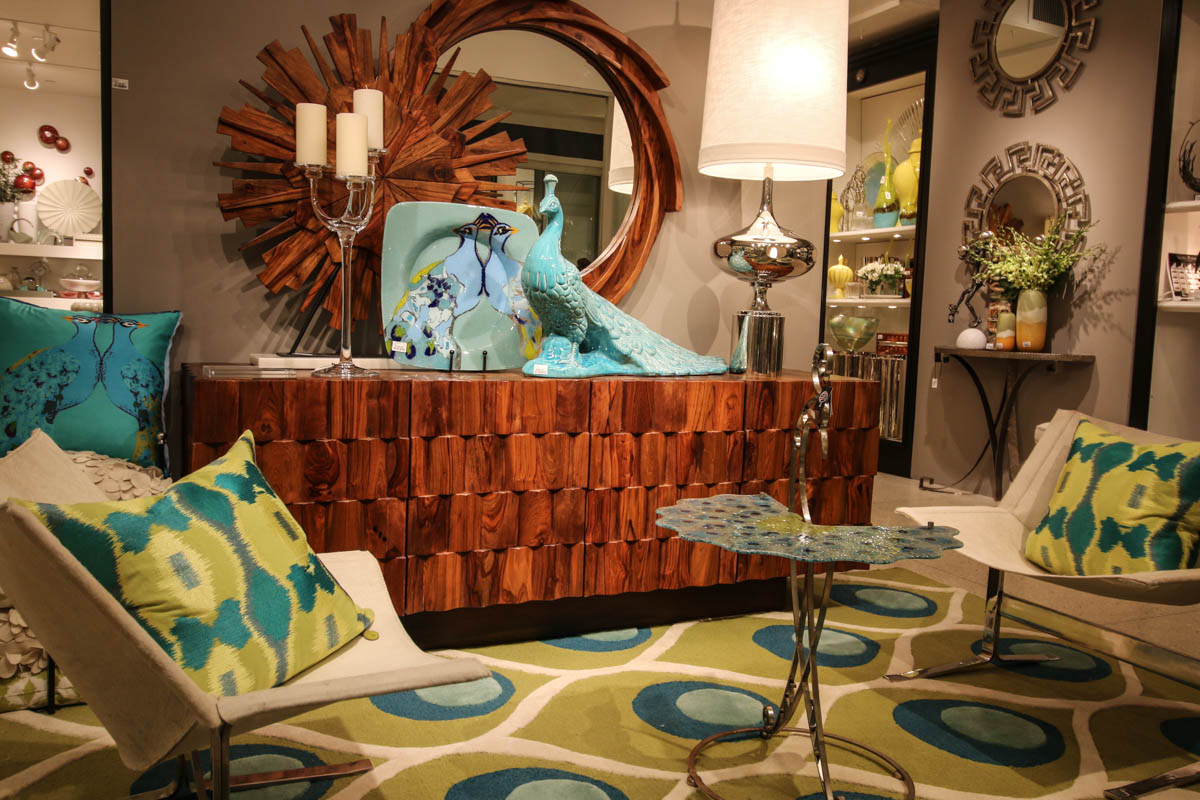 Peacocks: Everywhere we turned there was another peacock. As a painting, on a pillow, in a chair fabric, the peacock motif was a hot item this market. Naturally having both turquoise and deep blue-two trendy colors- probably doesn't hurt either. Peacocks are a great way to introduce a bird motif or accent into your design scheme without it feeling to traditional or predictable.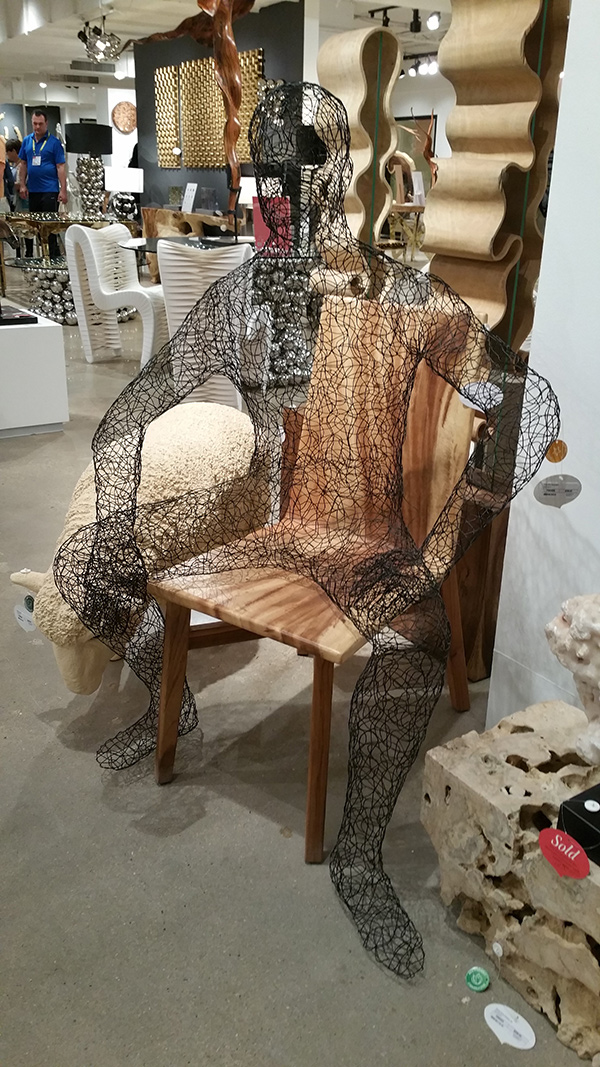 Natural, Organic Woods: I saw a lot of natural, raw wood pieces being used in furniture and accessories this market. The trend is to leave the wood in its natural finish and, in many cases, in its natural form. I saw lamps, tables and accessories that features a piece of wood that looked as if you had just picked it up from the ground and started to design. Another trend was to combine a raw, simple piece of wood with chrome to give a modern, glamourous feel to an otherwise rustic material for an interesting juxtaposition of materials and style.
Charcoal or Black Walls: Many showrooms featured black or deep charcoal walls to offset the neutral, natural color fabrics or woods used. It is a very dramatic way to keep your furnishings in neutral, light tones and add a punch to just one wall in a space. It keeps things looking light and airy but filled with drama. The black wall also looks great when you use the following and final trend: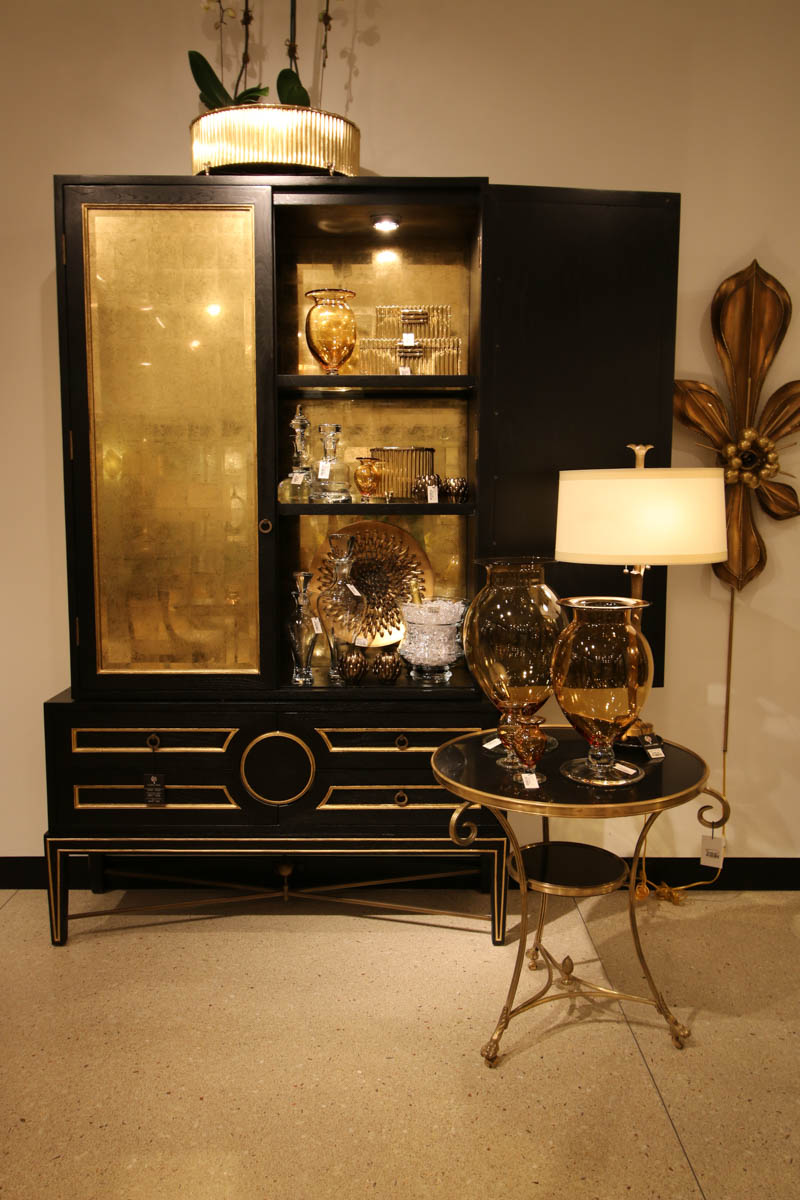 Gold: Gold was everywhere this market. It was definitely THE metal finish of spring 2015. From lamps to accessories, mirrors to tables, gold was the found from traditional room settings to exotic and modern fixtures and fabrics. It was often shown with black walls but also looked great when combined with bright colors of emerald green, navy blues and deep purples. Plan on seeing gold accents and metal finishes for several years to come, as it makes it way not only into furniture and accessories but back into baths and kitchens as well.
Enjoy some more pictures from the High Point Furniture Market below: