26 May

Kitchen Remodeling 101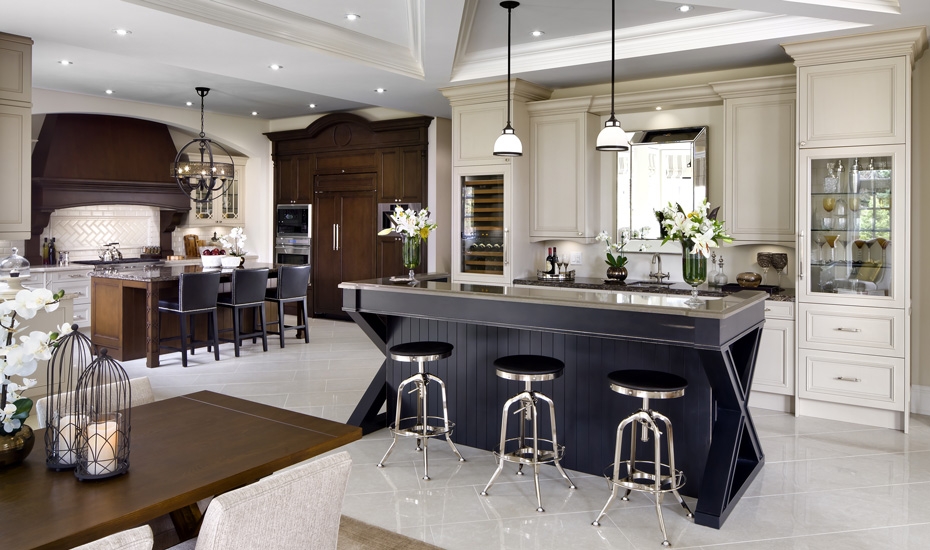 The kitchen continues to be one of the top remodeling projects homeowners tackle each year. And whether your plans are for a complete top to bottom kitchen remodel, or just a minor redesign of a few elements, everyone is still interested in how much a remodel costs and what are the major items that affect the budget. Why is it that two kitchens that are virtually identical in size can sometimes be tens of thousands of dollars apart? And what can you do to get the kitchen you want, while staying in the budget that need?
First, I will tell you the questions that you need to ask yourself before you start any kitchen remodel and key items that many people forget to put into their kitchen budget.
Next, I will discuss the key elements that most significant affect your kitchen remodeling budget and how you can make smart choices that will keep you on budget.
 Finally, I will let you in on some planning strategies that can help you avoid extra costs as you look at layout options for your new kitchen.
Let's get started with a few statistics: According to Remodeling.com, the average mid-priced kitchen today costs $55,000. The average upscale kitchen costs $110,000. This is a far cry from what many magazine and TV shows display when they are showing you dream kitchens remodels and telling you that they cost $15,000-$20,000. The truth is that yes, you can remodel an average size kitchen for $20,000, but not the dream , top of the line kitchens you drool over. Many times those prices do not include labor, which can easily comprise 20% or more of your budget.
 According to the National Kitchen and Bath Association, the average breakdown of a kichen remodeling budget—at any level—by category is:
Cabinetry: 30%
Labor: 20%
Appliances: 20%
Countertops: 10%
Flooring , lighting, plumbing fixtures, paint, windows and doors, and backsplash: All 3-5% each
And these are just averages. Many clients spend much more in one category than this , if they let themselves go crazy and blow their budgets.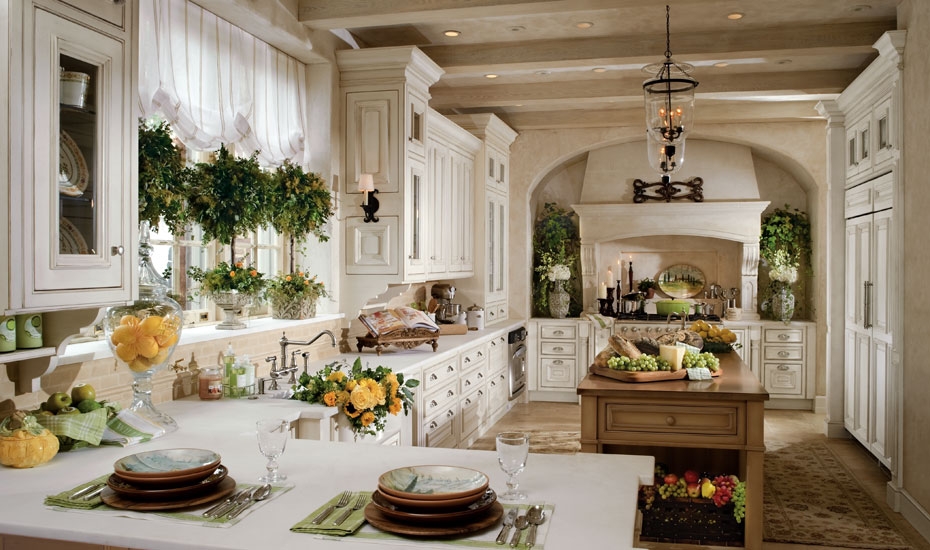 So how can you stay on budget? By planning ahead to do so! So here are the questions you need to ask yourself as you are planning your budget for your kitchen remodeling project:
Do you plan to stay in your home for more than 5 years? This will help you decide how much to spend. If you are planning on moving in the next 2-3 years, you need to make choices that will be help your home sell to potential buyers and add only costs and options that you can get back at selling time. With the improvements you have made the kitchen, you still want to be able to recoup them, while not pricing yourself higher than other homes in the neighborhood. On the other hand, if you plan to be in this home long term, then you can spend money more for your own enjoyment and on the style and items that are important to you. You are not as worried about resale and getting your money back: you are concentrated on what makes you happy.
Make a list of priorities. I call them the non-negotiables. You should make a list of the 3 things that absolutely want in your new kitchen , no matter what. If there are two of you, then both people should make their own list. As you begin to budget and select items, don't lose sight of these non-negotiables. Once you have budgeted for these, then any thing else is subject to your budget's limits.
Decide what you can truly afford. At the heart of any budget planning, is the key question of what do you feel comfortable spending? This figure should also be on the top of your mind as you begin to set your priorites , make your plans and budget for your individual categories.  No kitchen remodel is successful if you are stressed by going over budget and spending more money than you can afford or feel comfortable spending. This is true for any design project, but particularly with a kitchen remodel, since costs can quickly escalate and get out of hand.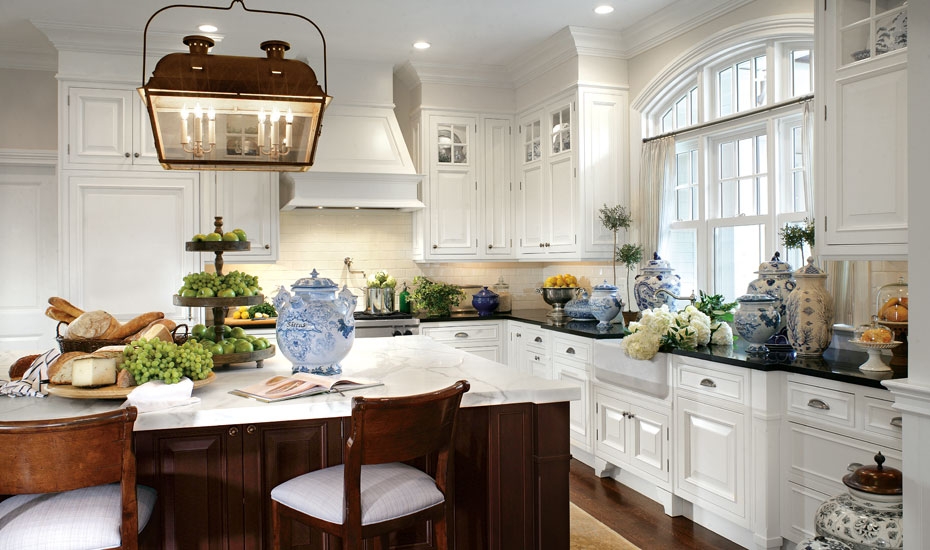 Here are 2 important bonus items that many times homeowners often forget when planning their budget:
Sales tax. Yes, you will owe it. At least on the materials you purchase. And considering that you may be spending $20,000 or more for just material, that is a significant amount you need to plan for.
The Unexpected. Set aside 5-10% for the "what ifs" of life that can happen with any project. And they will happen. So if you have got $50,000 to spend, set aside about $2500-$5000 for the unexpected. If you get 75% finished with the project and haven't used this reserve, then you can use it on a splurge item or two, or use it for some decorating items or furnishing to complete your new kitchen.Now that you have your budget set and have a clear vision of what you want to spend and your non-negotiables firmly in place , you can set out to make your selections. At this point, I would be remiss if I didn't take a moment to extole the virtues of working with a professional kitchen designer. He or she can help guide you more thoroughly thru the process and make you aware of products and resources you may not be aware of yourself. Plus they are trained to help you design a layout that is efficient, meets all codes and goes along with your way of entertaining and cooking in your kitchen. A really good designer can actually save you time, money and help you avoid costly mistakes. In most cases the costs would be about 2-5 % of the budget. The more major your renovation , the more you need a designer. But even with a designer, you need to have asked yourself the same questions before you sit down with them so that they have a clear picture of your budget, your needs and your wishes.So whether you are making decisions on your own or with the help of a designer, you can help keep your budget in place with a few strategies for each of the major categories:
Cabinetry: to help keep your budget in check, select simple door styles and simple finishes. The finish you chose and the style you chose can affect the cost of your cabinetry by 15-30%.  So, a set of cabinets with a fancy door style and a complicated finish can turn a set of $15,000 cabinets into a set of $20,000 cabinets in a blink of an eye. Chose a simple style in a simple rich stain or classic white finish and save yourself the money. Instead, splurge a bit with some great hardware that everyone will compliment and while spending just a few hundred dollars more.
Appliances: Here is where many homeowners go over the top. Applicances today have so many cool features and gadgets that it is easy to get caught up in the fantasy that they will make you a better cook. If you hate to bake, a $10,000 range isn't going to make you into Martha Stewart. Remember, unless you are already an experienced and passionate cook, you will be very happy with mid priced appliances. Also be on the lookout for appliance makers who offer great package deals throughout the year: many will give great discounts that can amount to $500- $1000 on a group of appliances. That kind of savings will buy you a great faucet and sink or a wonderful tile backsplash.
Countertops: There are so many great choices out there today for countertops. And they can range from $20SF for laminates to over $100SF for wood, marbles, and stainless steel. A trick to save money if you are talking about granite, natural quartz or marble tops is to talk to the supplier and see if he has any leftover pieces that would work for your island top. Many dealers will make you a good deal on a piece that is leftover from another job. Also ask if he is running a special on a particular species or brand. Many times stone dealers will bring a large quantity of a single color and offer it at a special price. Things to avoid: fancy edges and extra thick tops. These features, while beautiful, can add hundreds of dollars to your cost without any benefits. What to pay attention to: the small costs. Make sure your quoted price includes the following: templating, delivery, installation and drilling for faucets and for mounting your sink. These can add significantly to your final bill if you have not planned on them

So finally as I mentioned at the beginning of this article, there are some planning strategies that can help you keep your budget in check and this is because they affect one of the most expensive categories: labor.

Now while as a whole, labor is not something that you can reduce dramatically, unless you do some of the work yourself, there are some things you can keep in mind so that you don't make the labor become more than it needs to be. Here are just a few:

Location of plumbing and electrical. If you can keep your new layout where major water lines and electrical outlets are in the same basic location, this reduces labor for moving drains, water lines and electrical. While each one is not a major expense, you can still save hundreds of dollars in labor by being mindful of this.

Ventilation. Where you locate your hood ventilation can make a big difference in cost. Again, if you can place your new hood in the basic same location, you will come out ahead. Moving ventilation can often involve going into attic or basement space, cutting through walls and joists and other labors that can add up quickly and become quite costly.

Window, doors and millwork. The more elaborate you are with your moldings in a room, they more you will spend on labor. Many times the moldings in an existing kitchen are just fine. If they are in good shape, leave them be. A fresh coat of paint and they will look brand new. As for doors and windows, be careful of changing locations and sizes of too many windows, doors and doorways. Besides the units themselves, the labor to cut new openings and re frame and sheet rock over existing ones, can add significantly to the labor costs of a kitchen remodel.

Demolition. This overlooked category can amount to hundreds if not thousands of dollars. This is one category where you can save money by finding someone who would be willing to take your old cabinets and fixtures as long as they will remove them. This not only saves you demolition costs but also the cost of having the materials hauled off. Another great idea is to have a tax deductible charity such as a church or Habitat for Humanity come and pick up your old kitchen parts for a nice tax write off. Most will pick up your items right from your garage or home, once they are removed. In this case, everyone wins.